Imagine giving customers the ability to sit poolside on a warm summer evening, touching a familiar screen, and bringing their backyard to life in a way that suits their particular mood. One tap of their finger can transform their outdoor living space to reflect an ambiance or theme that matches the way they felt during that particular evening. Builders have made this possible by creating pre-programmed themes to match holidays, a romantic evening, a neighborhood get-together, a kid's birthday party, or a relaxing atmosphere for simply hanging out.
Prior to this, changing themes was accomplished via any number of remotes or buttons manufacturers built to make customization easier. Today, manufacturers are spending their resources, time, and efforts to enable more common devices (e.g. smartphones, tablets, etc.), which more people are using every day, to offer these same controls.
No matter the swimming pool and/or hot tub configuration (i.e. design), remote pool management is available to help make the owner's life easier. In the past, it was often said: "Who on earth would own a swimming pool and not have a remote to manage their backyard features and environmental harmony?" At the very least, pool owners would use a remote to turn lights on and off. Now, with the advent of technology, the expectation is changing to "who on earth would not use their mobile device to control their pool, manage their water chemistry, and automate their backyard environment?" Regardless, to make all of this possible, remote pool management is required.
The current market
The industry recognizes the majority of high-end swimming pools are outfitted with automation systems, and close to half of mid-range swimming pools are now designed with a controller. Some manufacturers have even developed entry-level, aftermarket controllers to replace dated time clocks. That said, most swimming pool owners are still handcuffed to the manufacturer's required remote options; however, these same manufacturers are racing to deliver better, more convenient options for remote pool management.
Closing the sale
Automation has long been expected on high-end swimming pools; however, it is not always an easy sell. The hardest thing to sell customers—especially in the mid-range market—is the need for remote pool management and the fact it can actually save them money down the road. Many builders have oversold features and ease of usability, or in some cases talked the technology down to clients simply because it can reduce the need for backyard service. However, once pool owners understand how it can truly save time and money, they are typically onboard.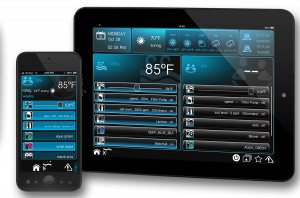 At the very least, controllers give homeowners the ability to run pool and/or hot tub equipment, turn lights on and off, adjust temperatures, and simplify the necessity of turning valves to operate their pool and hot tub. Not having to walk to the equipment pad and manually turn valves is definitely a big selling point.
Keep in mind this is only the basic functionality of automation and remote pool management. For instance, homeowners can set varying schedules and groups of functions or commands to happen automatically, or with the touch of a button.
"We started with automation three years ago," says Kim Harper of Mudslinger Pools in Indianapolis, Ind. "Our biggest selling point, especially with previous pool owners, is they're not out there testing the water every day, and they'll never open to a green pool. Customers call us back after a couple months and ask if there is something wrong because their water is so clear and they haven't had to touch anything since we installed the automation system.
"I love building pools with automation systems for people who are familiar with them as they understand how much they save all around and how little time they spend maintaining the water."
Installation and programming
In general, automation, and especially remote pool management installation, can be tricky and time consuming. Builders often set all of their pools based on a template configuration, leaving the homeowner to do their own customization, or they comeback to program the settings later. The automation systems that are available today were developed to make pool and hot tub ownership easier, but many times, they can be anything but easy to use, never mind the programming aspect.
"To fully learn the ins-and-outs of programming the current control system I use, it probably took me four to six months in the field," explains Harper. "Pool builders live with what is available, basing their controller selection on the product that is the least difficult to work with."
The frustrations of working with some current automation systems have led to exciting innovations in this space. The manufacturer that delivers a controller that makes it easier for the builder, service professional, and end-user will ultimately revolutionize the industry. The same could be said for the builder—the one who makes it easier for their customer to use their pools will win the lion share of their local market.
What is remote pool management?
Telemetry is the highly automated communications process by which measurements are made and other data collected at remote or inaccessible points and transmitted to receiving equipment for monitoring. The word is derived from Greek roots: tele (remote) and metron (measure).
Telemetry is the technology behind remote pool management; it allows the controller to communicate with the user's home network and mobile devices. This telecommunications process has greatly advanced over the past five years within the automation space—from bulky remotes with hard buttons and small screens to full functionality with apps available on today's leading-edge consumer electronics and home automation systems. Telemetry in remote pool management is finally catching up to the technology and modern user interfaces expected in today's tech-focused world.
Types of remote pool management
There are multiple methods of remote pool management in the swimming pool and hot tub industry—from handheld remotes and web-based management to the simplicity of mobile apps—each provides various forms of functionality.
Handheld remotes (Good)
Handheld remote controls have been a viable option for the past 20 years, but their range is limited to the property, and most can only be used within 152 m (500 ft) of the pool and hot tub's base controller.
Although remotes have advanced from simple, push-button devices into highly technical, liquid-crystal display (LCD) touch-screens with much more advanced capabilities, these limited-range devices cannot truly be classified as remote pool/hot tub management. It should be noted; however, universal remotes for managing the entire household environment—from the swimming pool and hot tub to the garage and home stereo system—are becoming more popular.
Web-based control (Better)
Web-based systems allow swimming pool and hot tub owners to access their remote management systems anywhere there is an Internet connection—from the comfort of home, just before leaving the office, or from across the globe. While sitting at any computer, remote management allows pool and hot tub owners to go to their controller website, log in to their pool/hot tub and perform a variety of functions, such as turning up the temperature of the hot tub for a relaxing soak after work, or turning on a theme or water feature for the kids from the office. In these cases, the web offers better control.
Builders and service providers can also use remote pool management to monitor all of the pools on their routes. For instance, they can view their customer's water chemistry without having to set foot in a single backyard. This level of service is a huge selling feature as it offers customers the peace of mind and convenience they are looking for, not to mention setting the service provider apart and above others in their local market.
Mobile apps (Best)
At home or on the road, mobile apps (i.e. application software) are typically the easiest way to control swimming pools, hot tubs, and backyard environments. These software programs are developed specifically by controller manufacturers, which can be easily downloaded for use on a mobile device. All that is necessary to use these apps is a smartphone or tablet with Internet connectivity and the applicable operating system (Android or iOS in most cases).
In most instances, these apps offer faster access, and make commands and status readings easier to view on mobile devices for on the go control. They also streamline work that would normally be done on the automation system's website.
Home Automation Systems (Best)
As discussed earlier, higher-end pools are the entertainment hotspots of homes, and are almost always built with a remote pool management system (controller). The residence also typically has an automation system to manage everything inside the home—from temperature to lighting, blinds, audio, data, etc.—quite similar to what remote pool management provides in the backyard.
Having two unique automation systems, one for indoor and another for outdoor, can be an inconvenience for most homeowners; therefore, having these two systems communicate and operate as one is imperative to supporting this subset of customers. Homeowners want to be able to use one interface to control their entire property—from opening their garage doors, engaging security systems, and turning on lights and music to firing up the jets in their hot tub.
The benefits of remote pool management
Once installed, remote pool management systems not only benefit the swimming pool and hot tub owner, but also the builder and service provider.
Swimming pool and hot tub owners
Three specific scenarios come to mind when discussing the benefits of remote pool management systems for swimming pool and hot tub owners.
The first scenario is the pool owner with a second home. The ability to make sure the chemistry is balanced from afar is invaluable, and equally important is the ability to turn up the heat a few days before arriving home for a swim in the pool. Coming home to a pool where the water temperature is perfect and the lights are on is expected these days. In the past, these pool owners would need to call a friend or neighbour to swing by their house to prep the pool for their return. If this was not an option, they arrived home to a cold pool that could take days to warm up. On the other hand, if the homeowner was to leave the house and forget to turn down the temperature, they do not have to worry as they can simply make the quick adjustment via the remote pool management system.
The second scenario is the working professional pool owner. While at the office the pool owner remembers his/her family is hosting a backyard party the following afternoon. Knowing a large rainstorm passed through the previous evening, the pool owner turns to the automation system to save the day. In a snap, the pool cleaner is running, sucking up any large debris that was blown into the pool, the chemistry automation is adjusting the pH, which was affected by the rain, and the variable-speed pump is bumped up to 90 per cent to increase filtration. With everything up and running, the pool will be crystal clear by 2 p.m. the following afternoon.
The third scenario is the rental property pool owner. Not only can they manage their pools, but also lock certain functionalities out from renters. This is an important feature to have when rental properties include utility costs (e.g.managing pool water temperature to control costs).
Swimming pool builders
There are a number of benefits remote pool management systems can bring to a pool builder's business. First, presenting an automation system to a customer during the sales presentation with mid- to high-end pool potentials establishes the builder as credible and tech savvy.
Automation can help protect the customer. Depending on the platform and accessories installed, many manufacturers allow builders to view historical information on their customer's pool and/or hot tub chemistry. These configurations allow builders to receive alerts if the chemistry falls out of balance, which in turns helps them ensure their customers understand how to manage their pools and/or hot tubs properly. This can also help prevent damage to the equipment, pool finish, and other accessories—ultimately saving the customer money, while avoiding warranty issues.
Another advantage is the ability to remotely change settings on a pool and/or hot tub without having to be onsite. Logging into a customer's pool management system from the store, or while on the road, to change a setting, create a schedule, or turn on a feature, makes the builder invaluable to customers without cutting into their profits.
Service/maintenance companies
When it comes to service/maintenance companies, remote pool management systems allow them to change their business model from not only the pool/hot tub cleaner and maintainer, but to innovators who can efficiently manage a customer's swimming pool or hot tub remotely.
Being able to manage more than 100 different features on any given pool allows them to tailor their services to increase profitability and efficiency. Both by receiving alarms and remotely monitoring chemistry levels, they are able to better plan their routes, make sure they have the necessary chemicals and equipment on hand when dispatched, and proactively address issues to avoid serious chemical imbalances, thus saving their customers money.
Where is the automation market headed?
Advanced technology and remote pool management starts with the controller. It should provide remote management capabilities as a standard feature, or provide the ability to upgrade easily and cost-effectively in the future. As manufacturers innovate, more of these capabilities are built into the controller to make them more versatile for pool and hot tub owners at the onset of installation, as well as lower the need for any additional costly accessories down the road.
Today, most swimming pool and hot tub equipment manufacturers offer an antenna and gateway in order to send a translated signal from the controller to the pool owner's home network (normally a home router). This feature enables homeowners to use their existing home network to manage their pools, hot tubs, and other backyard features.
In most cases, the pool controller is connected to the home router directly via Ethernet (coaxial cable) or wireless bridge, although some controllers require additional hardware to translate the communication protocol (language of the controller).
Technology is an ever-evolving beast. Once the latest and greatest devices have been released, they suddenly become obsolete as something bigger and better is just around the corner. Controls and remote pool management are now synonymous with technology. There have been more changes in the telemetry of remote pool management in the past three years than ever before, and the industry needs to understand these rapid changes are not slowing down any time soon.
Technology and the culture of instant gratification define today's customers; therefore, it should also be the mindset of the industry. The future of swimming pool and hot tub automation is here and it is time to get onboard.
---
This article was written by Greg Fournier and originally appeared on Pool & Spa Marketing [link].